The Pym Particles Ignite!


This article is a stub. You can help the Marvel Fanon by expanding it. If the page receives no further improvement, it will be deleted June 28th, 2018.
This Articles needs to be wikified!
This article lacks proper templates, navigational structure, and/or standard American English grammar.

To help improve it, check the current Layout Guide and Formatting requirements. Once these are adequately met this tag may be removed from the page with admin approval. If the page receives no further improvement, it will be deleted 2 weeks after the date of issue.

Doom is serious here. He will destroy this article. Bwahahahahaha.
Abandoned Project
This article seems to have been abandoned and is currently incomplete, and according to the site policy, is spam and will be deleted accordingly.

To help stop this, you may continue this project and ask for this template to be removed, or you have ask for it to be deleted. If neither of these are done, it will be deleted 2 weeks after the date of issue. It WILL be deleted unless the owner of this project picks it back up.

Latverian Royal Family (House of von Doom), Enemy of the
Fantastic Four
, Leader/member of the first Frightful Four
Relatives
Cynthia von Doom (mother), Dracula (maternal ancestor), Michael Morbius (distant maternal relative), Kristoff Vernard (son)
Characteristics
Unusual Features
Scarred face
Status
History

===Origin===

Powers and Abilities
Powers
Gypsy Sorcery: Doctor Doom's potential in the mystic arts comes from the Roma heritage of his mother. He learned these abilities from his time with a secret order of monks in Tibet. He further developed his abilities by traveling through time and learning lost Dark Arts. His knowledge of spell-craft likely surpasses Doctor Strange's. However, he considers his scientific abilities to be more important and has devices that do many of the same things.
Mystical Blasts
Mystical Force-fields
Invoke Entities
Spell Casting
Summoning
Teleportation
Dimensonal Travel
Mystical Ensnaring
Mystical Portals
Electrokinesis:

Abilities
None known.

Strength level
Unknown.

Weaknesses
None known.

Paraphernalia
Equipment: None known.
Transportation: None known.
Weapons: None known.

Notes
Victor is the Nexus version of Victor von Doom (Earth-616)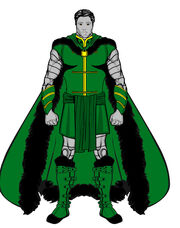 Trivia
See Also
Discover and Discuss
Links and References
---