Ultimate Avengers 3
is the second sequel to the
Ultimate Avengers
trilogy.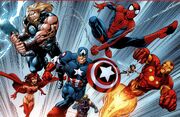 Premires
March 2011
Summary
After the tragic death of Wasp's husband, Giant-Man, the Avengers encounter new enemies known as the Masters of Evil, and Spider-Man becomes Hank's replacement due to his injured death, and an archer known as Hawkeye and the daughter of Magneto known as Scarlet Witch join the team also. And what the Masters of Evil are planning is absolute destruction.
Characters
Avengers:

Captain America
Black Widow
Iron Man
Thor
Wasp
Spider-Man
Hawkeye
Scarlet Witch

Wolverine (Spider-Man's mentor)
Mary Jane Watson
Nick Fury
Betty Ross
Hulk
The Masters of Evil:

Baron Zemo
Enchantress
Executioner
Radioactive Man
Melter
Black Knight
Voice Cast
Justin Gross as Captain America
Olivia d'Abo as Black Widow
Marc Worden as Iron Man
Dave Boat as Thor
Grey Delisle as Wasp
Yuri Lowenthal as Spider-Man
James Arnold Taylor as Hawkeye
Mae Whitman as Scarlet Witch
Steve Blum as Wolverine
Maggie Blue O'hara as Mary Jane Watson
Andre Ware as Nick Fury
Nan McNamara as Betty Ross
Michael Massee as Dr. Bruce Banner
Fred Tasticore as Hulk
Troy Baker as Baron Zemo
Kari Wahlgren as Enchantress
Powers Boothe as Executioner
John Dimaggio as Radioactive Man/Black Knight
Robin Atkin Dowes as Melter
Ad blocker interference detected!
Wikia is a free-to-use site that makes money from advertising. We have a modified experience for viewers using ad blockers

Wikia is not accessible if you've made further modifications. Remove the custom ad blocker rule(s) and the page will load as expected.