Relatives
Franklin Storm (father), Maria Storm (mother), Jonathan Storm (brother), Lǐ dé Richards (husband), Lyja (ex-sister-in-law), Torus Storm (nephew), Crystal Amaquelin-Storm (sister-in-law), Marissa Storm (niece), Raymond Storm (nephew)
Base Of Operations
Baxter Building, Manhattan, New York
Characteristics
Status
Occupation
Teacher, Scientist, Adventurer, former actress; former fashion model
Origin
Origin
Mutate- exposed to cosmic rays
History

===Origin===

Powers and Abilities
Powers
Aerokinesis: the ability to control air molecules. She can create powerful tornadoes, hurricanes, and various winds that are capable of moving a vast number of objects/people. Also she can create sharp forces of wind that can cut through material, and create isolated whirlwinds or directed blasts of high pressure air. She also can control and manipulate the movement of air, as well as create powerful wind blasts.

Flight: She has the ability to fly by gliding on wind currents. Invisible Woman's powers grant her the ability to fly as high as the atmosphere can be stretched by using her mastery over wind. She can even carry other people with her.
Asphyxiation: Using her precise control over air she has even been shown to control the very air in a persons lungs. Therefore, she is able to extract and prevent entry of air into another's lungs.
Air Shields: able to circulate the high force winds around herself or an extended area to protect herself and/or others from attacks and flying debris. (Also can create protective shields/domes of air pressure to deflect attacks. Invisible Woman's power over air pressure has also been used to crush powerful objects. She has even created pressure (on earth) higher than that found on Jupiter.)
Levitation: levitate/move others/objects with the wind.
Sound Amplification: ability to mentally direct air particles, allowing her to amplify small vibrations in the air and draw far-off sounds to her ears.
Equilibrium Disruption: She can also control the pressure inside the human inner ear, using this ability to cause extreme pain and disrupt one's sense of balance.
Air Transformation: alter her body into air, winds, or even whirlwinds that at their peak can reach tornado strength/force.

Invisibility: While in this air form, Sue is rendered completely invisible.
Intangibility: While in this air form, Sue cannot be touched/harmed by solid matter. Oncoming projectiles or energy blasts will pass through her harmlessly.
Flight: She can also fly in this form as well. She can move at superhuman speeds and strike as a razor cutting wind that could slice through solid materials. This wind can be incredibly sharp. Ultimately, she can propel herself at speeds of several hundred miles per hour.

Abilities
None known.

Strength level
Unknown.

Weaknesses
None known.

Paraphernalia
Equipment: None known.
Transportation: None known.
Weapons: None known.

Notes
Sue is the Nexus version of Susan Storm (Earth-616)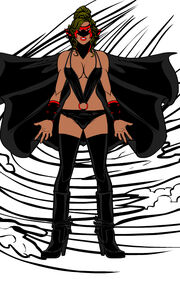 Trivia
See Also
Discover and Discuss
Links and References
---