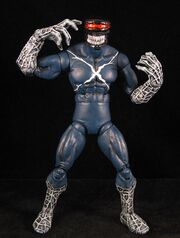 A blind wrestler named Jim Montezuma lived a good life. That is, until he was hit with a meteor containing a symbiote. Montezuma found that the symbiote gave him his sight back, along with sharpening his other senses. It also gave him The powers of a spider. Calling himself Glare, he set out as a vigilante. After learning his appearance frightened those he was trying to protect, he went into hiding. Since the symbiote invasion, Glare has not been seen.
Ad blocker interference detected!
Wikia is a free-to-use site that makes money from advertising. We have a modified experience for viewers using ad blockers

Wikia is not accessible if you've made further modifications. Remove the custom ad blocker rule(s) and the page will load as expected.